[box style="5titre"][icon icon="depart"] Continuously departure [icon icon="age"] From 6 years old[icon icon="tarif"] Buy your tickets[/box]
[box style="5intro"]
The outdoor leisure sport to not miss!
[responsive]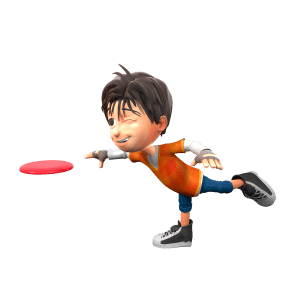 [/responsive]
Check out our 18-basket course on the grounds of the "Le Grand Défi" in St. Julien des Landes in Vendée !
In the heart of the forest, across a 1km course, with your discs, challenge your friends and family.
Playing disc golf will allow you to spend time your friends and family in a quiet forest environment.
This activity is open to everyone and can be played whatever your level. Allow about 1 hour 30 for a game
[gap height="30″]
[button link="https://grand-defi.collectif-num.fr/wp-content/uploads/2015/03/plangeneral.jpg"  target="_self" color="green" lightbox="true"]Map[/button][button link="https://www.grand-defi.net/ECOMMERCE_GRAND_DEFI_WEB/FR/recherche.awp?P1=&P2=10&P3=1″ size="large" target=" _self" color="yellow" lightbox="false"]Buy your tickets[/button]
[/box]
[box style="2″]
[responsive]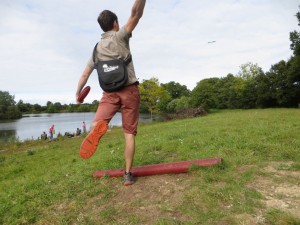 [/responsive]
Equipment:
3 discs:
the putter (for short distances)
intermediate (for intermediate distances)
and the driver (for long distances).
18 Baskets: In disc golf, the goal is to reach the basket with the fewest throws possible[/box]
[box style="2″]
[responsive]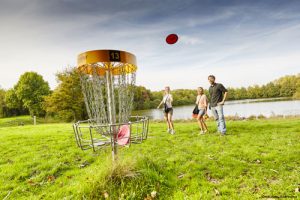 [/responsive]
The rules
 Goal of DiscGolf
In Discgolf, the goal is to reach the basket by throwing the least amount of times possible. (For example, a common strategy for a par 3 is to do a drive (long run), an "approach" (average run), and finally a putt (short shot to the basket)).
Disc golf basics
Each player throws his frisbee from the starting point. Then the other shots are taken from the place where the frisbee has landed. When all players have thrown, the furthest from the basket throws and so on until all the players have completed the hole.
PAR: Like in golf, every basket is qualified by a number of launches called "par".
The Challenges: What makes Discgolf really fun is the use of natural elements such as trees and shrubs as obstacles to create challenges. (Ex: you have to go between the two large oak trees)
Scores: The number of throws is the number of points, the aim is to have the least amount of points…
[button link="https://www.grand-defi.net/ECOMMERCE_GRAND_DEFI_WEB/FR/recherche.awp?P1=&P2=10&P3=1″ size="large" target=" _self" color="yellow" lightbox="false"]Buy your tickets [/button]
[/box]
[one_fourth]
[box style="3activite"][responsive] [/responsive]
TREE TOP TRAIL
From 2 years old
33 courses to discover the trees in Vendée[/box]
[/one_fourth]
[one_fourth]
[box style="4activite"][responsive] [/responsive]
PAINTBALL
From 6 years old
Join the fun
at the largest
paintball of Vendée[/box]
[/one_fourth]
[one_fourth]
[box style="10activite"][responsive] [/responsive]
GALACTIC LASER
From 6 years old
In an other galaxy,
defend your ship with your laser[/box]
[/one_fourth]
[one_fourth_last]
[box style="14activite"][responsive] [/responsive]
EXPLOR'GAMES
®
From 6 years old
Outdoor Escape Game
Fantastic adventure or police investigation in the middle of nature
[/box]
[/one_fourth_last]
[one_fourth]
[box style="5activite"][responsive] [/responsive]
DISC GOLF
From 6 years old
An 18-hole course,
unique
in Vendée
[/box]
[/one_fourth]
[one_fourth]
[box style="6activite"] [responsive]
[/responsive]
ORIENTATION
From 6 years old
7 progressives courses
in
the park's forest[/box]
[/one_fourth]
[one_fourth]
[box style="7activite"][responsive] [/responsive]
PONY RIDE
From 2 years old
Walk in the park's forest
During April, July and August [/box]
[/one_fourth]
[one_fourth_last]
[box style="11activite"][responsive] [/responsive]
QUICKJUMP
From 20kg
Accept the challenge and
jump from an 18 meters
wooden tower
[/box]
[/one_fourth_last]